Who we are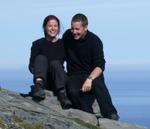 Behind "We" there is Christian and Monika Schlatter-Heiz, citizens of the tiny little country in the heart of Europe called Switzerland.
Both born in the year of '75, we had the luck to get organized into the same class when we entered Kantonsschule Baden- actually that's how we met! But it took us some years to realize that we would be quiet a nice couple. First, we both started our studies at the Federal Institute of Technology (ETH) in Zurich. Then we became a couple.
This was more than a decade ago. In the meantime, we finished our studies, started our work experience, moved together, traveled around and enjoyed life. We were also lucky to spend 2.5 years in the US, in a nice college town called Chapel Hill in North Carolina, where we not only expanded our work experience but also got married and could welcome our first son, Eric.
At the moment we live in a beautiful rural setting close to Zurich, are working for a private company (Christian) and the University of Zurich (Moni). And we enjoy our family addition Oliver, who together with Eric is a great team that definitively keeps us busy.