Travel
In Summer '99, we did our first one-month journey, bringing us up to Scotland. We rent a car, packed in our tent, and, starting from London, explored the Highlands. And it was clear: We wanted more!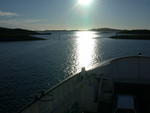 So we left in Summer '01 to Norway. Right from our home in Switzerland we drove up to the North Cape, again with nothing more than our tent and our stove. It was an amazing trip, leading us to one of the most beautiful countries in Europe and giving us the experience of the midnight sun!
In '02, Moni started the first of her island trips with Chrigle. We visited the Azores, the nicest group of islands in the Atlantic! It was awesome, so we decided that islands should always be on our future itinerary. Indeed, in October '04 we made some holiday on Lopud , a small croatian island perfect for relaxing. The next trip is planned in winter '06/'07, leading us to the Netherlands Antilles.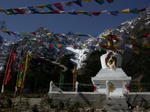 Meanwhile, we discovered the Himalaya! It was Hynek, working in New Delhi, who led us to Kinnaur & Spiti in '03. This was a whole new world, high mountains, desert valleys, and rural tibetan culture... We were so fascinated that we had to go back in '04, this time to Sikkim in the north-eastern part. Although quiet different to Spiti Valley, we could again enjoy indian and tibetan culture and views to Nepali and Indian high mountains.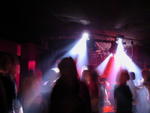 Beside small trips to France, Italy or Austria, we spent two weeks in Lars second home Helsinki during New Year '04/'05. This Finnland trip was an extraordinary one, as it included a Jah Equity Soundsystem Tour, storm on the East Sea and visiting Linda, Lars girlfriend, who provided us with lodging and private guide tours.
Certainly, we also spent a lot of time in Switzerland itself, mostly in the mountains, where our favorite spot is Adelboden, a nice village in Berner Oberland. But we also enjoy kajaking, snowboarding and hiking in all the different parts of the Swiss Alps.
While some of our trips are already described in more detail on their respective homepages, others currently only exist as Photo Albums in the Gallery. We plan to create pages about these trips also, so visit us again!