A Fall Trip to the Coast
29.10.2006

End of September, Christians father Hans Georg and his sister Isabel came to North Carolina to visit the state and us. They first spent some days in the Appalachian
mountains, including Grandfather and Cold Mountain and, of course, Little Switzerland, and enjoyed the superb views at the Pisgah Inn.

After a tour on the campus and other Chapel Hill must-have-seens we then headed to the coast, enjoying the warm fall sun and even some bathing. The first stop was in Kill Devil Hills, were we did not only get terrific food, but also honored the Wright Brothers and climbed the sanddune. Thanks to our trip in spring with Chrigle & Co, we already knew where it's really worth to go, so we enjoyed again lunch in the fisher-style restaurant in the middle of nowhere, and more importantly, stayed in Ocracoke for the night! What a treat....


As it was off-season, we got affordable rooms (or better suites!) with huge balconies with harbour view. We sat there half of the evening, drinking some beer, listening to the music from a nearby pub and watching the sunset and the returning boats before finally heading out for some dinner and drinks in a small, cute garden pub. You could easily spend a whole week there, just relaxing, visiting the lighthouse and the small art galleries, and having fun each evening. But we had to leave...


We took the ferry, stopped by in the best fish restaurant at the coast in Swansboro, went swimming near Myrtle Beach and drove directly to Charleston- it was a long long day! So why not take advantage of the GPS system in Hans Georgs car and let us guide to our hotel? Because the system was quiet old and got lost on the "new" bridge (opened July 05), implicating that we've fallen into the sea and it cannot guide us anymore....
Next day, we walked through the city with its marvelous houses before driving over to Patriots Place. It's indeed a patriotic place, celebrating US submarines, destroyers, Coast Guard ships and most importantly-
the aircraft carrier!
It was a long walk through the ship, from the control room to the airplanes to the machine room, everything nicely presented with additional exhibition explaining live on the ship and deployments of the ship. As a special treat you could eat "original" food in the canteen and the menu clearly showed that the US soldiers eat much better than the russian ones on the submarine we visited in San Diego! That's perhaps why in the latter, thousands (!) of hidden empty vodka bottles were found after the ship left service.
Like always, time went by way to fast. We had to drive back to Chapel Hill, while Hans Georg and Isabel went to Atlanta for their flight home, and daily life started again. Good luck they made a lot of pictures, including some of our house and of Chapel Hill, and we have some too, conserving memories of holidays...
California
04.09.2006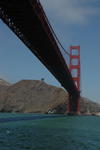 Finally, the pictures from our trip to California are online! I followed Christian to a meeting in San Diego, and we spent a week driving through California, departing from San Francisco. This was a great trip, as California really offers a lot, and we enjoyed the sea, the desert, the mountains and everything inbetween...
Don't mess with Texas
12.06.2006
So I went to Texas! As the US does not know a "Nachtflugverbot", I took the airplane on a Thursday after work and arrived at midnight in San Antonio, where Susan was already waiting for me. What a joy to see her!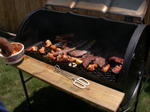 I spent the weekend at her mothers and Lees house, chatting, eating, suffering from the heat, shopping (the mall is a refuge in this heat), playing Minigolf and driving Kart with Jeromy, and walking around in San Antonio. It was just great! I not only got real mexican food (breakfast and crispy tacos, not to compare to what they serve you in the restaurants), but also a huge Texas Barbeque, all home-made! I tell you, when Howard cooks, this is a dream... There was so much food that I even could take some with me to serve to Christian, who was wondering how it tastes fresh when it is already sooo good warmed-up!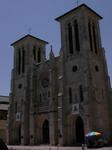 San Antonio is a very nice city with a lot of mexican charm. One of its main attraction is the River Walk, a riverside within the center of the city with a lot of restaurants you can sit outside (in the evenings). But not to forget is The Alamo ("What, you don't know The Alamo???").
It is an important hallmark in the history of the US, where a handful of US citizen fought 2 weeks against a huge army of Mexicans to defend their texan territory. Finally, they lost the fort to the Mexicans, but gathered together again and threw them out of the country in a huge battle near Houston, already frightening them with the phrase "Remember The Alamo" (and our will and strenght). In other words: It's the Morgarten of Texas....

I very much enjoyed the days with Susan and her family, who all were so kind to me, showing me around and feeding me.... Don't be surprised if I come back!
Fishing in the Mountains
05.06.2006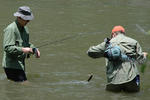 Last weekend, we headed to the mountains, where Christian was introduced in the art of fishing! Good luck we had beautiful weather and could enjoy the whole day at the river. Christian was really successfull, catching 14 fishes on his first day! He also had amazing instructors...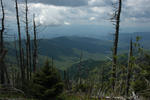 The next day, we drove through the Great Smoky Mountain National Park, which is really awesome with its huge natural forests, and had a look at Tennessee with its apple trees and wedding chapels. A short visit to Asheville and a long way back on the interstate, and it was Monday again....
The Visit and the Trip
01.06.2006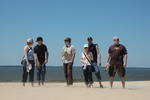 Mid-May, Chrigle, Thomas, Choitsch, Miri and Maese came to visit us on their trip along the US East Coast. After spending two days in Chapel Hill, we all went to the beach where we met Burbel and Brent who came over from Colorado. All together we traveled down the coasts of North and South Carolina and definitively had a lot of fun! See some pics from our trip, a report will follow soon.... You can also watch the pics from New York and Washington Chrigle and Co made.
North Carolina Beaches
22.04.2006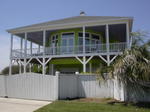 30 degrees Celcius and Friday off- the best time to go to the beach! We started on Good Friday and headed to Bear Island- an island only accessible by ferry with some basic campgrounds right at the beach. Unfortunately, we were not the only ones with this idea, and moreover, the ferry was suspended due to sand movings in the water
channel.
So we changed our plans and visited Emerald Isle, slept on a campingground in a forest, and drove down to Wilmington the next day. On the way, we passed Camp LeJeune and Surf City, had a swimm at Fort Fisher, and visited the USS North Carolina.
After a good dinner at the Wilmongton waterfront, we had a walk through the city to see some of the nice southern style houses and a short drive back home on our I-40. It was definitively worth the trip, and we look forward to go again in May with Chrigle and the Clan!!!
Blue Ridge Parkway
23.10.05
It's fall foliage in the mountains! Although not in full colors yet, we took the last weekend before Monis short trip to Switzerland for her fellowship interview, and headed to the mountains. We left on Friday afternoon to Wilkesboro, where we were invited to spent the night at Justins mothers home, a very nice and friendly evening we enjoyed very much. Next day we drove part of the Blue Ridge Parkway, a long street following the ridge of the Blue Ridge Mountains, exclusively open for tourists.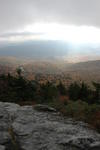 We started early in the morning with nice weather in Blowing Rock and drove down to Grandfather Mountain. Grandfather is a privatly owned (!) mountain where they demand a not-too-small fee for driving up (why don't they do this in Switzerland?). On the top, we faced heavy winds and clouds, but being experienced from Norway, we just waited, and soon the sky got clear and we had breathtaking views down to Tennessee.
The main attraction of Grandfather Mountain is the one-mile-high suspension bridge, which means that it is settled exactly on one mile elevation. But don't get confused, actually it is a very fortified suspension bridge that only moves slightly despite the heavy winds we had.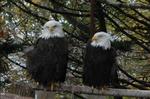 Another nice attraction is the zoo up there where you can see the animals that used to live in the area (eagles, bears, etc). We continued our way down to Linfalls where we ate lunch beside an amish? family (what the hell did they in a restaurant??). Rain started again, so we were not able to take a glimpse on the skiing resort there, but we paid a visit to Valle Crucis and its famous Mast General Store. After Tea Break in Boone, an arts & culture town and home of the Appalachian University, we had to leave the mountains again. It was a very nice trip that we enjoyed very much and we are looking forward to spend some more time there!
You can see more pictures from the Blue Ridge Parkway here...
Hanging Rock State Park
19.09.05
We already made our first little trip in North Carolina- to the Hanging Rock State Park. The weather here is still like midsummer in Switzerland, so we didn't want to waste time in our dark hotel room. Hanging Rock State Park is about 2.5 hrs from Chapel Hill and its main attraction is the Hanging Rock- a huge and really impressive rock you can walk to the top. Up there, you have a nice view to the wooded area and- it is colder up there!!!
In the gallery you find some pictures.