Our Trip to the Indian Himalaya
In July 2003, a group of 8 people, called The Team, met in New Delhi to spend 4 weeks in the western part of the Indian Himalayas. Coming from Switzerland, France and Cambodia, we all arrived within one hour at Delhi Airport and had a direct transfer to "Hotel Chill", the big flat of two members of the Team in Delhi. After getting used to the heat and having driving lessons in Delhi traffic, we started with 3 Enfields and a Gypsy Maruti to the North. We were looking forward to high mountains, empty valleys and old tibetan monasteries...
Where we went
The state Himachal Pradesh is located in the North West of India in the lap of the Great Himalayas. The entire region of Himachal Pradesh is mostly hill with the altitude ranging from 350 meters in the south to 7000 meters above sea level.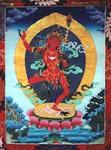 It is bordered by Tibet in the East, and there has been strong trading between these two regions. Therefore, you find a lot of original tibetan culture in the north and east of the state, whereas Shimla and Manali, the two bigger towns, are tight in indian tourist hands.
With 93 people/km2, Himachal Pradesh has a low people density compared with 257 people as the states average. Anyway, as an European you have to get used to having people everywhere.
The Planned Tour
After visiting the old Hill Station Shimla (2200m), we wanted to go to Kinnaur to see Sangla Valley, then following the Sutlej and later Spiti River to Nako (3600m). From there we planned to enter Spiti Valley and visit the Gompas of Tabo, Dankar and Ki, the highest village connected by a motorable road in Asia, Kibber (4200m) and the Pin Valley. We wanted to travel over Kunzum La (4800m) to Chandra Valley and then over the high passes of the highway to Leh (3500m). After some days in Ladakh, the trip should have ended with traveling back over Rothang Pass (3900m) to Manali and then to Delhi.
What we finally did, you can read under The Trip!