New Pictures
02.04.2009

Yes, it's true- we uploaded some "new" pictures to the gallery. They range from last October up to now, including Eric's first snow and haircut, some winter impressions from here, eating spinach and more. Enjoy...
A short video of Eric
11.11.2008

Another short video of Eric showing him playing around on the day after his birthday in October. His most important (and obvious) advancement since then is that he learned to walk on his own! This results in many bruises but also new adventures. We can now play hide and seek and the space behind our tall potted plant is Eric's new "house".
Eric also develops more and more personality and thereby will- just being close to the bread aisle in the grocery store lets him clearly express his wish for a Weggli (bread roll). He loves to sit on his tricycle like a little king and explore the world while being pushed around, pointing his finger at interesting things while saying "Da" ("there"). He listens to music and tries to dance, and of course he persistently ignores "NO". He is a great little guy...
I'm a toddler now!
11.11.2008

Last month, I celebrated my first birthday! There was a huge party and people sang a song and there was a candle and we ate cake and I got many presents- wow! I was very happy and enjoyed having all those nice people around and all the sugar in the cake. Later on I had to test some of the toys I got, especially that book about wild animals that makes loud animal noise if you press the right buttons. And then I was even allowed to go for dinner at Svoebis Place! Unfortunately there is not much to tell about it as I fell asleep shortly after arrival and only woke up during the ride home to check if it's the right direction.


But I can tell you about our trip to Weissenstein. That's a pass on a mountain ridge in Jura where grown-ups have a wonderful view on the Alps. The cool thing about is that you can take a vintage chair-lift to the top, just like the one I recently took in Kandersteg during our fall holiday. On the top I lazily sat into my carrier and Dad carried me to a hill top. That was great there, the wind was so strong it hold me up standing! After a while it got cold and we hiked back to the restaurant. So much to see, so many children around. If only Mom would have let me crawl away...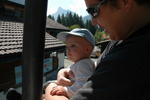 Quiet a while ago we were in Adelboden for our fall holiday. The weather was surprisingly good, and we had some very sunny days we went out for hikes. My Nonna and Nonno came to visit us which I very much enjoyed. They have a dog which is really smaller than me, so for once I didn't get dog kisses directly into my face like our farm dog Rico likes to give me.
Most of my time I am busy making "Seich" (the Swiss German word for nonsense). Yes, I am very creative in making Seich as soon as my Mom turns her back on me. As I got very mobile, crawling up stairs and standing up on virtually everything I can find, I have way more options for Seich! So I can unpack Moms groceries and start to eat the Zopf (Sunday bread), I can unwrap a chocolate Mom forgot on the table and then crawl on the white carpet with my chocolaty hands, or I can taste the soil of the potted plants. Obviously, most of my Seich has to do with eating. But I also do very useful stuff, like helping my Dad to assemble a new pieces of furniture or.... Hmmm, well, bringing my parents to laugh out loud almost daily, isn't that a great thing?




Oh, and I was really really sick for the first time in my life! The doctor said I had a viral sore throat and there is not much to do except being really nice to me and giving me some Paracetamol. Which my parents did, of course!
A new video of Eric!
29.08.2008

7 months after the last video you finally get a new one! Obviously Eric grew a lot and developed many skills. You can watch him enjoying Sunday getaways and Pasta for dinner,or still trying to figure out how crawling works. Hope you enjoy it!
Summer '08
27.07.2008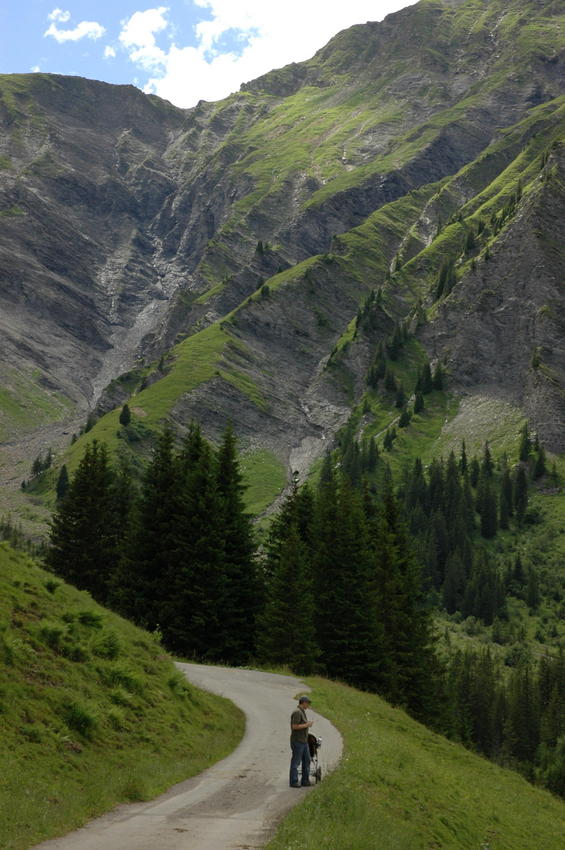 Again more than one month since the last update. Well, we were really busy recently, we had to enjoy summer time and another vacation in Adelboden ;-). But there were also some things to organize. Moni will start work in August, she got a part-time job at the University of Zurich she is very much looking forward to. This also meant to get a day care option for Eric, which of course wasn't easy. But now we found a great Tagesmutter (day mother), and we hope that Eric will enjoy being there and playing with her kids. Another side effect of the new job is Moni's new car- a second-hand silvery Renault Clio! As usual, Christian did a really good evaluation and chose a great car everybody enjoys (hopefully for a long long time).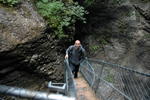 We also had the pleasure to already get visitors from over the Atlantic! First, Volker, first together with Jan, spent some nights here on our farm on his way from Italy to Germany to Italy to Germany to....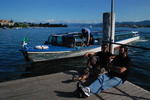 We not only watched soccer games together (although Eric especially got sick for the first time in his life the night we wanted to go watching soccer on the Fanmeile) but also made some sightseeing in Zurich or just relaxed on our balcony Pictures. A couple of weeks later, Tom and Anja came from Germany to visit us in Adelboden, where they accompanied us to the Cholereschlucht and cooked an marvelous Lasagne for everybody. We very very much enjoyed to see them all and to spend some great days together. As always, time passed by way too fast, so we hope we can meet again very soon....

Adelboden July '08
In Adelboden we had quiet a busy time. Many people paid us a visit, and we spent a lot of time outside enjoying the marvelous setting (on sunny days). Nati came with her kids David and Marcel, and we opened the first child care in Stiegelschwand- in the living room where once the school took place ;-). Luckily the weather turned better and we had a lot of fun on the kid's first hike cum picknick. But even more absorbing was the farmer who made hay around our house- or at least his tractor.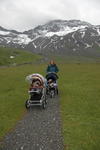 Simone and Malou were less lucky- it was pouring like crazy the day we met on Engstligenalp. Nevertheless we did two rounds on the hiking trail there, with a break in the Berghaus Baertschi where Frau Baertschi welcomed Eric she just knew from last year as a bump of Monis belly.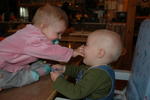 The same evening, Tom and Anja arrived from Chapel Hill via Germany and Chrigle and Thomas from the very rainy Gurten Festival. To welcome the new guests, the weather turned much better and we could hike the Cholerenschlucht the next day. As always a highlight in Adelboden...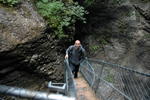 For the weekend, Hynek and Aurelie and the Molinari Family showed up. The weather was ok, so we could do another stroller walk down from Sillerenbuehl- this time to the Schaermtanne where we met Martin und Felix who arrived from Lenk via Albristhorn und Gsuer. We did a huge BBQ in the evening and enjoyed a warm night outside with a lot of "family talk" ;-).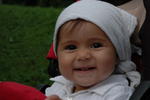 Pictures from Adelboden

Eric is growing
Eric is now almost 10 months old. How fascinating to watch him grow and gain new skills! His most favorite task is walking around holding our hands very tightly, which leads to severe backache for his parents. He is quiet a lazy guy (or an optimizer, however you look at it) who decided that crawling is not necessary and standing up on his own is annoying. Also drinking from his bottle is more efficient when Mom holds the bottle- although he is totally able to do it on his own. He loves to eat on his own whatever he gets (apples, prune plum (his current favorite), bread, carrots, small stones and grass), babbles around and is still an outdoor guy. Just being outside makes him happy... Stroller walks lost some popularity as he cannot move himself, but they still make him tired. He vividly observes other, especially older children and giggles whenever somebody fools around. And he still loves to cuddle, best between his parents with his head on Dads shoulder and his feet kicking in Moms back....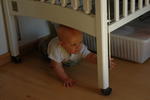 Finally- new pics
04.06.2008
We have so many new pictures to share! Lazy as we were they accumulated over the past few weeks, but now it's definitively time to publish them.....
Early Mai we spent two great weekends in Adelboden- our first family vacation!! It was still quiet cold, so Eric got his first lesson in how to start a fire. He was so excited about it that we didn't get him into bed until 11pm...
It was rather sunny, we went for walks every day accompanied by friends visiting us. On the top of the mountains was still snow, so Marek went first snowboarding and the next day kayaking in the snowmelt together with Svoebi. We took it much easier and rode the cablecar to Tschentenalp where we first enjoyed a yummy lunch followed by a nice hike back to Adelboden.
Spring is a great time to go to Adelboden as there is reasonable weather, no Tourists, but many cows. Having them so close around the house is funny, they start to get part of the crowd and enjoy watching us as we do watching them.

We also visited Spiez, a small city at the lake of Thun we always pass by. It turned out to be a nice town with a cozy castle but tons of people on a sunny day like this. Eric was way too tired from all the excitement of the last days to participate in sightseeing.
more pics of Adelboden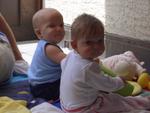 We also went to visit Malou and her Mom Simone. While Eric and Malou demonstrated how nice babies behave and slept, played, and even shared their toys, the grown-ups caught up with so many things. It's just great to reconnect with old friends, and it gets even better when sharing all the new experiences as Moms and Wifes. Luckily we also have our friend Natalia who's already an expert and helps us out with clothes, gear and many helpful tips on how to deal with the little ones and daily life.....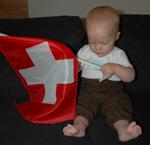 And then there is EM of course! Finally it started, although not the way Swiss people hoped for, but so what- the party is on! There is a sea of flags allover the place with an emphasis on small country flags you fix onto your car. An unofficial analysis done on the way to watch the opening game (thank you Daniel and Maria for the great party!) revealed a majority of Swiss flags followed by Croatian, Portuguese, German and Turkish flags. Unfortunately, Eric does not really understand why people starring at the TV suddenly have outbreaks of cheering or hooting and therefore reacts with loud crying.... Well, there are still three weeks to come, so there is a chance he will accept this strange behavior...
In any case, our little man is growing and growing... It's so amazing to watch him discover the world and gain more and more skills.
He not only sits straight perfectly but also turns around to grasp a toy behind him, rolls over and over again, and stands and jumps holding on objects and hands. Just today he now discovered how to push his whole body on the floor- although so far it only works backwards :-). With all this new abilities his self esteem is growing too, seducing him to more and more adventurous moves often ending in falling and crying.
His vocabulary is also increasing, with newly acquired sounds like "ssssssss" and "tsts" and of course "mamamama" and "papapapa". He already realized that those sounds must be something special as Mom and Dad get really excited when hearing them, but their real significance is still unclear to him.
He has four teeth now (with two more just about to break through) and loves chewing on anything he gets hold on- with the TV remote control, paper and pieces of apple as his favorites. He is a really good eater and wants to try everything he sees Mom and Dad eating. So his menu expanded to Pasta with Veggies, Rice with Pork, Griessbrei and much more (sometimes even a bit of Pizza crust). He got a bit chunky, so we guess food is ok... more pics Eric

Moreover, our stuff from Chapel Hill arrived safely and complete after 12 weeks en route!!! Unpacking the boxes was somehow an emotional task as they were filled with happy memories of North Carolina. But it also helped us settling down here as life is definitively more comfortable with a TV, a sound system and a proper bed. Consequently, our apartment is more and more equipped, and we really start to feel home here. We are now looking forward to our first oversea visitor, the tall German guy everybody in Chapel Hill is familiar with....
Some new pics
30.04.2008

We uploaded some new pictures from the beautiful place we live here and, of course, from Eric. As we are just now leaving for a looong weekend in the mountains (yes, yes, yes, we have all those Christian holidays again!) you will have to wait for some text until next week. In the meantime just enjoy the pics and if you feel like seeing our little farm in real- we have a guest room!!!
Sign of Life
11.04.2008

So were back. Back in Switzerland and back online. We arrived safely early March, with a lot of overweight baggage and a very well-behaved Eric. We moved to Lucerne where very kind friends let us their flat during their vacation. Our days were filled with visits to family and friends and driving around in search of an apartment and a car.


We ended up with a very comfy Volvo (yes, we started to love this brand) and a wonderful and large apartment on a former farm up the hill of a village near Baden/Zurich. There aren't as many trees and squirrels outside as we used to have, but the view and the lovely setting compensates that fully. Still we are in the middle of settling down, now busy with buying furniture and complete administrative stuff. Christian will start his new job next week which will bring us back some daily routine.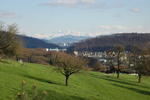 Eric is developing very well. He enjoys his new home and is well equipped with furniture our new landlords lend us. He is a curious little guy and improves his social and motor skills almost daily. He started to sit- although still a bit waggly- which gives him the possibility to sit upright in a shopping cart and get a whole new view. Never shopping was so easy and relaxed :-). And he loves his vegetables, fruits and cereals so much that eating is barely an issue. Slowly also sleep improves again, which is great for Mom and Dad too...


More Pics

Now we are waiting for our stuff shipped from Chapel Hill, hoping that everything will arrive safely. Arranging all our things will still take a while, but we are doing well- in every sense.