Bernies Visit
05.11.2006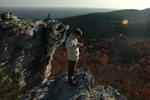 We enjoyed another visit of Bernie, who already came to our house in Spring and took again the chance to connect a meeting in the US with a short stay in Chapel Hill. This time not as warm as during his last visit, we nevertheless had a very nice weekend. We drove to Hanging Rock State Park and enjoyed the awesome view from the top: Endless forests, all in red, yellow and brown.... See some pics
Multilateral Communications
05.11.2006
Guess how we enjoyed this Sunday afternoon: See here
Halloween
02.11.2006

Pumpkin Art in Bynum, a small community close to Chapel Hill.
More

A new Member of the Heiz Clan
29.10.2006

Ok, actually he's not a brand new member, born half a year ago, but finally I got pictures of him! May I introduce: Samuel Grava-Heiz, son of Daniel (my cousin) and Maria. Wish you all the best little boy!




A Fall Trip to the Coast
29.10.2006

End of September, Christians father Hans Georg and his sister Isabel came to North Carolina to visit the state and us. They first spent some days in the Appalachian
mountains, including Grandfather and Cold Mountain and, of course, Little Switzerland, and enjoyed the superb views at the Pisgah Inn.

After a tour on the campus and other Chapel Hill must-have-seens we then headed to the coast, enjoying the warm fall sun and even some bathing. The first stop was in Kill Devil Hills, were we did not only get terrific food, but also honored the Wright Brothers and climbed the sanddune. Thanks to our trip in spring with Chrigle & Co, we already knew where it's really worth to go, so we enjoyed again lunch in the fisher-style restaurant in the middle of nowhere, and more importantly, stayed in Ocracoke for the night! What a treat.... More... Pics Hans Georg Pics Moni & Christian
California
04.09.2006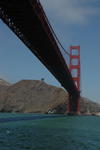 Finally, the pictures from our trip to California are online! I followed Christian to a meeting in San Diego, and we spent a week driving through California, departing from San Francisco. This was a great trip, as California really offers a lot, and we enjoyed the sea, the desert, the mountains and everything inbetween...
5. August
04.09.2006
As we were in California on 1. August, Martin was so kind and postponed the celebration of the Swiss National Day to the 5. We enjoyed a nice evening at Martin and Mayas house with many Internationals that supported us (or just took the chance for another good party :-)). Thanks to my Mom, who sent us the matching decoration, the house looked really swiss. You can watch some pics from the early part of the evening (later, it was better not to shoot any) on Martins Gallery.
New Animals
20.07.2006
We added more pictures from our hummingbirds, including a short movie. The sugar water is highly attractive (and addictive), so we enjoy a real swarm of birds on our patio!
12.07.2006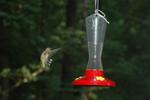 Living in the forest brings you a lot of animals around the house. Most of them you like, some you don't... Especially so nasty ones like the mosquitos that bite me while I got that pic from a hummingbird would be very welcomed to disappear :-). But we are still amazed about who lives with us here, and try to catch pics whenever possible. So enjoy some new ones on our gallery!
Soccer
25.06.2006
Or: Why Switzerland has to win the Soccer World Championship...

We have so much to do at the moment, watching all games possible and do some work beside... First, we also had to support the Carolina Hurricanes on their way to win the Stanley Cup, and they did not make it easy for us: Playing all the seven games in the final round, there was a lot of Hockey to watch, but finally they made it! The level on which they fight against each other in the NHL is really amazing, although it's still a bit strange to see Hockey, sitting on our porch at more than 30 degrees Celcius...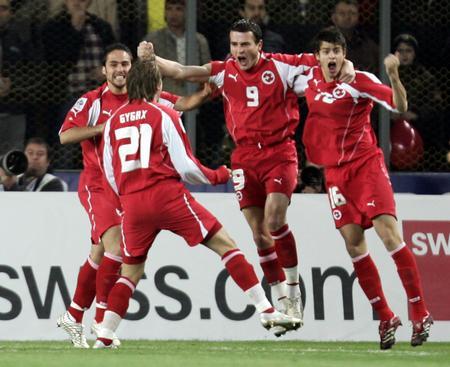 And now the Soccer Championship! Whenever possible, we head to Tallulas, a turkish restaurant (a very good one by the way) that shows all the games on big screen. Except last friday, when Switzerland/Korea and France/Togo took place at the same time, we chose the Italian Pizzeria, which has two screens- so we could watch the games simultanously...
Depending on the time of the day and on the teams playing, a smaller or bigger crowd of people from all over the world meets at Tallulas and enjoys the art of soccer. The smallest group of fans there may be this Swiss group, counting 3 members, but what a group of fans :-)! The waiters also seem to be foreigners, as they are quite enthusiastic about soccer. Not so the rest here, they are barely aware that there is something going on in the world. Soccer still has a difficult position beside Football, Baseball, Basketball and Hockey, and the early retirement of the US from the championship is not really beneficial to change this.
So we saw some of the games in Tallulas, and if this is not possible as our employers not really share our enthusiasm for soccer, we watch the replays on mexican TV in the evening. Although we don't understand one word, the commentators are much better than the ones in US TV (reason see above). Now we are looking forward to the next games. As we both have to work tomorrow afternoon, Switzerland has (!) to win against the Ukraine so we can watch again on Friday!!! The subsequent games then will not be a problem, with the semifinal against Germany/Argentinia on 4th of July (we have some holidays too) and the finals on the weekend. So please, let us also watch Swiss soccer, go on Switzerland!!!
Don't mess with Texas
12.06.2006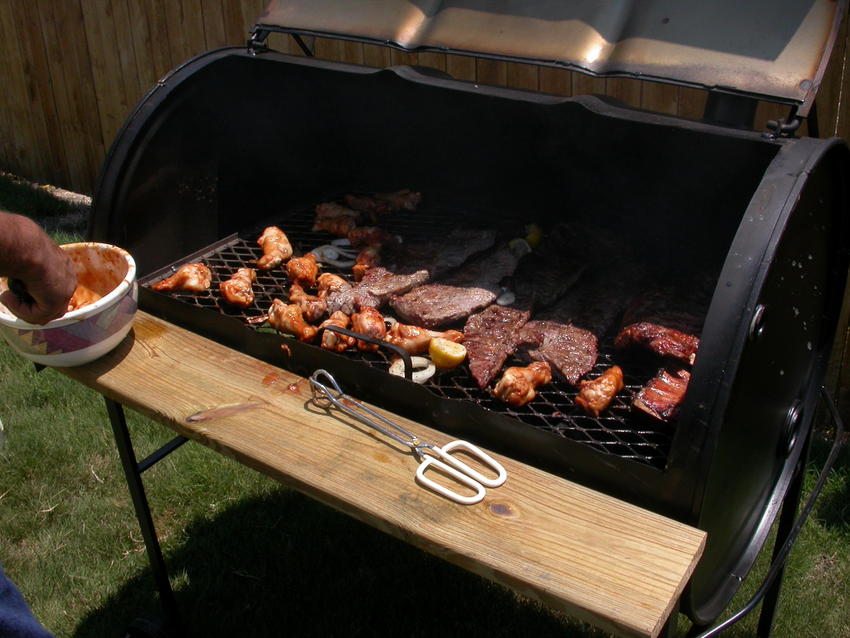 So I went to Texas! As the US does not know a "Nachtflugverbot", I took the airplane on a Thursday after work and arrived at midnight in San Antonio, where Susan was already waiting for me. What a joy to see her!
I spent the weekend at her mothers and Lees house, chatting, eating, suffering from the heat, shopping (the mall is a refuge in this heat), playing Minigolf and driving Kart with Jeromy, and walking around in San Antonio. It was just great! I not only got real mexican food (breakfast and crispy tacos, not to compare to what they serve you in the restaurants), but also a huge Texas Barbeque, all home-made! More..., Pics...
Fishing in the Mountains
05.06.2006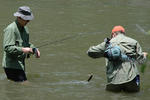 Last weekend, we headed to the mountains, where Christian was introduced in the art of fishing! Good luck we had beautiful weather and could enjoy the whole day at the river. Christian was really successfull, catching 14 fishes on his first day! He also had amazing instructors...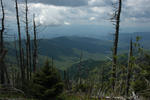 The next day, we drove through the Great Smoky Mountain National Park, which is really awesome with its huge natural forests, and had a look at Tennessee with its apple trees and wedding chapels. A short visit to Asheville and a long way back on the interstate, and it was Monday again....
The Visit and the Trip
01.06.2006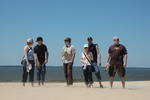 Mid-May, Chrigle, Thomas, Choitsch, Miri and Maese came to visit us on their trip along the US East Coast. After spending two days in Chapel Hill, we all went to the beach where we met Burbel and Brent who came over from Colorado. All together we traveled down the coasts of North and South Carolina and definitively had a lot of fun! See some pics from our trip, a report will follow soon.... You can also watch the pics from New York and Washington Chrigle and Co made.
North Carolina Beaches
22.04.2006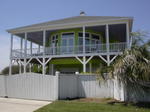 30 degrees Celcius and Friday off- the best time to go to the beach! We started on Good Friday and headed to Bear Island- an island only accessible by ferry with some basic campgrounds right at the beach. Unfortunately, we were not the only ones with this idea, and moreover, the ferry was suspended more...
Welcome!
08.04.2006
We cordially welcome our newest Gallery member, Felix!
He already contributed to the Gallery with some extraordinary pictures from their Ski tours this and last winter. So we are looking forward to see the pics from Ecuador and Tarn 2006 :-).

A Gallery about our friends....
06.04.2006
The second collection of pics is ready! Enjoy all the good times we already had with them!
Some new pictures
04.04.2006
There are some new pictures on our gallery. Christian was in Atlanta on a meeting, and he came back with Bernie, who spent a weekend at our place. We also have new pets around the house and new bikes!
River Gallery
19.03.2006
With so many pictures in our gallery, we started to make special sub-galleries dedicated to a topic. See the first out of it, about Rivers.
Another nice weekend
26.02.06
It was warm and sunny outside....
First, the pedestrian path just behind our house was finally built! We knew they plan it, and on friday we were suddenly owner of a path leading almost through our garden! So while sitting outside, we can greet now men and dog walking by. But soon, the leaves will be here again and take the sight, it's already starting now.
On Saturday, we first went to the post office to get the book from a pakistani author I ordered at amazon.com, which was sent directly from Haryana, India! How nice to get another indian parcel, now I hope that Sudeeps tea I ordered will also arrive...
Then we were out for brunch with Martin, a swiss guy, and his wife Maya at Guglhupf. This is a german-run bakery nearby, and you find european bread and Hefezopf. They are very nice and we enjoyed it... They even showed us the only reasonable furniture store in the Triangle, and so we finally found a Couch!
Then a short visit to my lab (yes, my bacteria finally grew!) and some shopping- as we can soon welcome our first visitor here, we have some pressure now to get things for the guest room and bathroom :-)! We spent the evening at home, and I read a lot of chinese Leylop's Blog about her travel in India and Pakistan, and I look forward to read about her travel to Tibet! Only the navigation through the blog seems to be a bit difficult for me, I mainly rely on the archive links.
On sunday, it was warm and nice. We enjoyed a huge breakfast with many kinds of cheese we bought at Whole Food- Emmi cave aged Gruyere, Brie de Maux, Pecorino Rosso- hmmmm!!! Christian improved his new sophisticated mountain bike, and we did some gardening! Unbelievable, the tulips I planted in autumn seem to grow, so we had to make a "fence" that their young life will not be ended by the deer... The rest of the day we just spent enjoying the sun... And now I'm looking forward to cook lamb sirloin (Lammhuft, my first lamb since we moved to the US!!!), corn and rainbow chard (= vielfarbige Krautstiele). Thank you Whole Food :-)!
Relaunch of schlatter.net
19.02.06
We are proud to present you the completely new designed schlatter.net site! Originally supposed to be online in late spring, our move to the United States delayed the project, but here we are! Please feel free to browse our already finished sites and come back regularly to see the updates. We will post news about our life in North Carolina here, and certainly, new pictures!
Monster Truck
18.02.06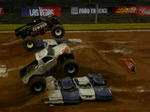 Yesterday, we enjoyed a Monster Truck show at the RBC Center. Yes, for all you that missed it in Switzerland and Finnland, it was great, loud and impressive :-).
See some pictures here

Olympics
18.02.06
Yes, yes, yes! No football, no basketball, but snow and ice! Ski jumping, alpine skiing, snowboarding, what a joy!
Thanks to NBC we enjoy "full coverage", which means that during primetime (8-11pm) they bring the most important moments of each discipline. Normally, the coverage starts with all the American athlets who didn't get a noteworthy place. Then, the athlets follow that got a place in the first ten. So if you see a Swiss athlet, you already know we made a good place! And for sure, in-between, there are a lot of commercials....
But although this kind of coverage takes a lot of the tension, we enjoy it! Thank you Bruno for getting bronze after they showed the "Endangered Species" poster! Thank you Martina for your sweet "so geil" after your ride! Thanks to all the US snowboarders for their great performances, and a special thank goes definitively to Jacobellis :-). Although we feel also sorry for you hearing all the jokes about you in US TV... Thank you Martin, the best goalkeepers still come from NC! As does the best speed skater! Thank you all for the nice time and the many topics of conversations at our working places (it seems, everybody is watching the Olympics!)!
Bulls and Broncs
08.01.06
Yesterday we went to see some Rodeo in Raleigh! Justin and Leann introduced us to the American Way to spend a Saturday night, so we went out for dinner and then headed to the RBC Center, more...