Over Jalori La to Manali
[Moni] On the way from Rampur to Jalori Pass, the landscape changed suddenly- banana trees and rice fields, farmers with their oxes and a lot of green.
Then the road begun to climb, first through millions of apple trees, then through a real fairy-tale-forest where we had the chance to observe a big vulture feasting on carrion.
[Hynek] Jalori Pass! The steepest pass I can think off! Now this pass is not good for a full loaded Gypsy with 4 persons sitting in it and not good for an 500cc Enfield that has to bring Aurelie and me up this hill. My poor bike! The paved road has great dirt holes that make the ascent almost impossible during a rainy day.
But we are lucky! The rain must have passed the day before, only a thick mist is lying over the hill with its lash green exotic forest. You start of in third gear but soon you shift into second. We leave the Gipsy far behind. Martin must have reached the top already! The second gear doesn't take it and so I am left with the first gear. The engine works at its most and steam is rising from the aircooled iron. I start zigzagging up the steep road to prolong the distance and therefore flatten the ascent. Geometry was one of my favourite subject in school!
[Moni] When we arrived at the pass, there was nothing but fog and bitter cold. But we enjoyed it- with a Sadhu, delicious apple juice and the best curry in the world at a homely family dhaba. The calmness was only briefly disturbed by a TATA full of indian tourists who wanted to teach the cook how to make chapatis. How loud indian tourists could be...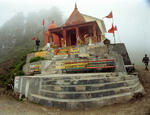 We left the pass searching for a camping site, but in this steep and woody region it was difficult to find. We all were tired and finally it got real hard work.
The next day we started our way to Manali, a well-known tourist city at the foot of Rothang Pass. The crowded road led through the highly populated Kullu Valley with thousands of gift shops and hotels.
[Hynek] The weather was lousy! Grey sky, cold wind, big trucks on the road, no scenic landscapes, too many people, too many tourists. The mood was low, none of us had a shower for some time, we all wanted some nice good meal and we wanted some peace. But how to get that in Manali? No way! - but then again wonders happen and especially if you have an angel called Vinod flapping his wings above you. And so Vinod moved the entire heaven and when we arrived in Manali we did not arrive in this very busy tourist haunting place but in paradise with its own special name: The Mayflower! - Hot water - YES! Pancakes - YES! TV in the room - YES!
< Kinnaur again | The Trip | Over Rothang La >