Back through whole Kinnaur
[Moni] So finally, it was true- the big landslide after Nako we heard about since we left Delhi, was reality. This was'nt sure before, as everybody we asked on the way gave us a different opinion about the road conditions. But it was obvious, so we enjoyed the blastings the engineer officer had ordered, together with the road workers. At least 3 months the road constructions would last.
We decided to go back the whole way through Kinnaur as fast as possible and then pass Jalori Pass and Kullu Valley to enter Spiti Valley from the north. Another day of long travel, another hour waiting time at the inner line permit check point included.
[Hynek] After Nako there was a road slide and we had to turn around and drive all the way back and around to enter Spiti valley from the north. We stopped at Tapri for breakfast/lunch. It was raining, but we felt at home for it was the second time we found ourselves in Tapri!
So it's raining! And we are stuck here in this "truck and bus drivers stop" town Tapri. OK what is there to do in such a recreation place? Male treats!!
And so six male foreigners descend to the many barbershops one next to the other. Each one of us chooses his favourite barber: The one with the most Bollywood action heroes on the walls! The one with all the Indian gods and goddesses posters!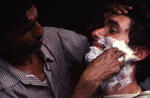 The one with a big ghetto blaster pounding with shrieky Bollywood music! Or the one that seems to be the best at facial massage! You sit down in that wooden chair, the barber adjusts the head support behind you and you nick your head backwards. Then the barber wets his brush, smears some white paste on your cheeks and brushes it to full foam. When he reaches for the razor blade you'd better stop smiling and making faces to your friends next to you taking pictures. He shaves you once,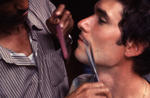 leaving your moustache unshaven. He shaves you twice, just to make sure you are perfectly sleek, and still leaving your moustache unshaven! And when I ask him to shave the moustache as well I certainly don't make new friends, not like others who left the moustache smiling on their upper lip! And just as it goes, when the last facial hair fell off the rain stopped!
[Moni] We wanted to stay in Saharan, a famous village up on a hill, which was an old kings domicile with a beautiful palace and temples and view. So at least we could profit from the detour by visiting what we had missed before. But we had to learn that during monsoon, no road was secure from natures power.
So we made our way back to Rampur, where it was not so easy to find a suitable hotel. While one part of the group had the chance to see an old private manor, the rest just relaxed in the hotel and enjoyed a good "Godfather". We did not even leave the hotel for dinner and therefore met the most friendly waiter and the quietest door ever seen in a restaurant.
< Up to Nako | The Trip | Over Jalori La >