The Way to Chandra Tal
[Hynek] Last night I slept on the roof of our host in Kibber. I was filled with complete happiness smoking with Felix and Martin while watching the stars and the rising moon. The air is fresh and when you breathe in you feel as if your lungs are filled with mountain crystals.
And then I close my eyes and I hear the Tibetan praying flags flattering in the air. I listen to them, try to distinguish the noise of the small from the noise of the large flags. Then I just let it flow into me, freely!
And then suddenly I have the image of the praying monks we saw the other day. The voices of the old monks would intermingle with the young voices. Praying flags. What a simple association people up here invented. Beautiful because simple and left open for me to appreciate in my own way.
[Moni] Early on sunday morning, Moni and Christian went to Kaza to fix the cars suspension. There were 2 trucks and one other car already at the garage, but being already a bit familiar with indian habitants, Christian just stood beside the mechanic until he turned to our car, and then watched and communicate with him during the repair. Even the spare parts shop was opened to get a new suspension. So already after two hours, the car was fixed again.
The rest of the group used the time to make a walk at Kibber and then visit Kye Monastery. As they didn't expect the fast car repair, they arrived at 14:00 at the petrol station- another two hours waiting. The whole bazar was closed and people watched a performance.
Our mood didn't get really better when we recognized that the petrol station was closed on sundays! We couldn't take the risk to go without spare petrol to Chandra Tal. So Hynek and Christian went to the owners house and convinced him that we really need petrol. They got it- pumped by hand.
So finally we departed from Kaza and could enjoy again the marvellous landspace at the entrance of Spiti Valley. This time we already knew where the cool dusty off-road tracks were.
After Losar we found a nice camping ground beside a yak and donkey feedlot and tried to cook-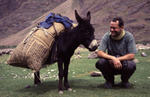 a timeconsuming event at 4000m with only one stove as Martins one didn't get the altitude. Felix spent a lot of time with his new friends who bear their burden even at night. Next day, we visited Kunzum La again.
< Pin Valley | The Trip | Chandra Tal >