Kinnaur- The Sutlej River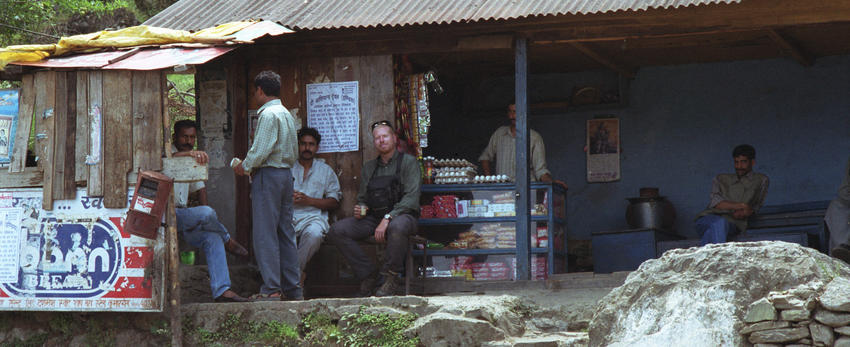 [Moni] We rested for lunch in Narkanda, which was described in Lonely Planet as a "truck stop village". There was a big village square, where we stood about an hour just watching the scene. Two young men were looking at the Enfields with joy in their eyes until one of them could not resist to ask us if he could drive it once. So we started a long conversation with two army students, an engineer and a medical, who were quiet unhappy to start military service again.
[Hynek] The first troubles with the bikes appear: on Felix's bike the front fork suspension is leaking. On my bike the candle is getting wet and the engine dies on me several times. I'm getting nervous. Will we make it to Spiti Valey? But in Rampur all gets fixed.
Should we stay in Rampur? Should we continue? We're still behind the schedule! "Lets stay" say some of us who would like to enjoy the town, "lets go on" say the others who are looking forward to the deserted areas of Spiti. First tensions? Confusion takes over and without any clear debate we find ourselves continuing to Jeori.
One last day of non-stop driving to Sangla! Then we can look forward to relax a few days! I love to watch Felix on his bike smiling from one ear to the other. He resembles the one character in Sega Super Mario Carts! The one that has red and white mushroom like head-dress! He might start jumping from one side of the road to the other and releasing these sounds of joy: Yupeeee! Actually he does jump from one side of the road to the other.
Sometimes he is in front with Martin and then a few moments later I might see him coming back the opposite direction checking out if Aurelie and I are all right! Then he would drive some time behind us overtaking us soon to go and check out the front of our little convoy. It seems to me as if he would like to do the whole road twice just to make sure he saw everything and smiled at everybody!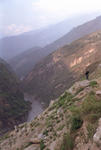 [Moni] We had breakfast in a little village and were sitting again at the village square beside an old shoe seller. Suddenly, a big TATA car with well clothed Indians was stopping and a man was shouting loud out of the car. The seller was nodding and a pair of shoes was thrown out of the car, two meters before the seller in the dust, and the car was rushing away. First insight how the indian cast system works.
Finally, the road went down to the borders of the Sutlej River. One of the biggest rivers, we have ever seen, sometimes calm and friendly, sometimes full of turbulences and dangerous to life. The kajaking people within the group already discussed how this river could be overcome wheras the others welcomed the cool water to refresh in this heat.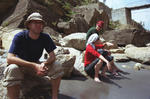 On the map, it was no long way to Sangla, located in a side valley of the Sutlej Valley. Hairpin curves, the road was described, could not be so bad we thought... It turned out to be a narrow road with a steep fall of several 100 m on the right side. We were lucky to be on the left- at least going up today. At the moment, where we had to side step at a construction side to let two trucks cross was the most quiet one on the whole trip until now (we didn't know yet, that even more quiet ones would follow).
When we were just before Sangla, everybody thought nothing worse could happen today. Until there were cries: "Quick, Martin is hurt!!!" He felt off his bike while playing with Hynek in front of him and badly hurt his elbow. It was clear that stiches were needed to close the wound, so we tried our luck in the camp of a big water power plant just nearby. Thanks to Aurelies tenacity, we finally reached the camp doctor who thought that this was a good practice for this younger, very nervous assistant. They did a good job and Martin was feeling better slowly. But it should not be the end of the day...
< Shimla | The Trip | Sangla Valley >